Cristiano Ronaldo Pets
MAROSCA
Breed: Labrador
ANTONIA
Breed: Chinese Crested
Date of Birth: Adopted in 2021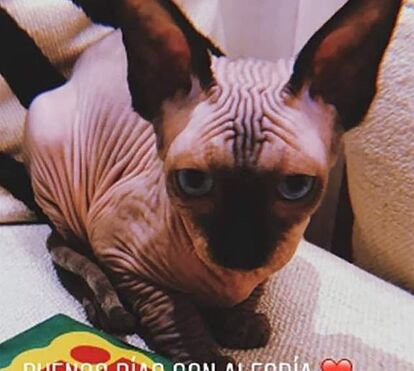 PEPE
Breed: Sphynx
Date of Birth: Adopted in 2019
MAROSCA - Ronaldo's cherished Labrador, Marosca, gained widespread attention in August 2015 after the football icon shared an adorable selfie with the pooch on Instagram. The snapshot quickly went viral, capturing the hearts of fans, media outlets, and animal lovers across the globe.
ANTONIA - In 2021, Cristiano Ronaldo and his wife Georgina Rodriguez welcomed a new furry family member, Antonia, affectionately nicknamed "La Toni." Although Antonia's unique appearance initially puzzled some fans, her undeniable charm quickly won hearts, showcasing that she's just as endearing as any other canine companion!
PEPE - Since 2019, Pepe, the hairless cat, has been an adored member of Ronaldo and Georgina's household, even joining them on lavish vacations. A harrowing incident occurred in 2021 when Pepe was struck by a car after escaping their opulent Turin residence, leading to a month and a half of intensive care at the vet's. Today, Pepe resides in Spain with Georgina's sister.
Christiano Ronaldo
Footballer
Date of birth: February 5, 1985
Aquarius
# Cristiano Ronaldo is a Portuguese professional footballer widely regarded as one of the greatest players in the history of the sport. He has achieved numerous awards and records during his career.
# Ronaldo has become the subject of intrigue in a Sociology course led by BC Okanagan's Professor Luis LM Aguiar, delving into his multifaceted impact on identity and culture.
# During his childhood, he earned the nickname "cry baby" due to tears when his friends missed his passes, and "Little Bee" for his exceptional speed, a trait that endures.
# Ronaldo's jumping power, equivalent to 5 cheetahs in full flight, propels him up to 78 centimeters with a run-up, surpassing the average NBA player.
# In a quirky move, Real Madrid insured Cristiano Ronaldo's legs for a whopping €100 million in 2009.
# Remarkably, Ronaldo bears no tattoos, an intentional choice to facilitate regular blood donation and his commitment as a bone marrow donor.
---
Ready to make your own memories with your pet? Check out our collection of custom pet gifts, they are the perfect gift for any pet lover!
---